Last updated on May 23rd, 2019
We created a list of 10 things to buy at Costco if you're on a keto diet. Eating healthy and keto can be expensive, so it's great to save money when you can by buying things in bulk. We hope this list helps you out if you're planning a Costco trip while on the keto diet!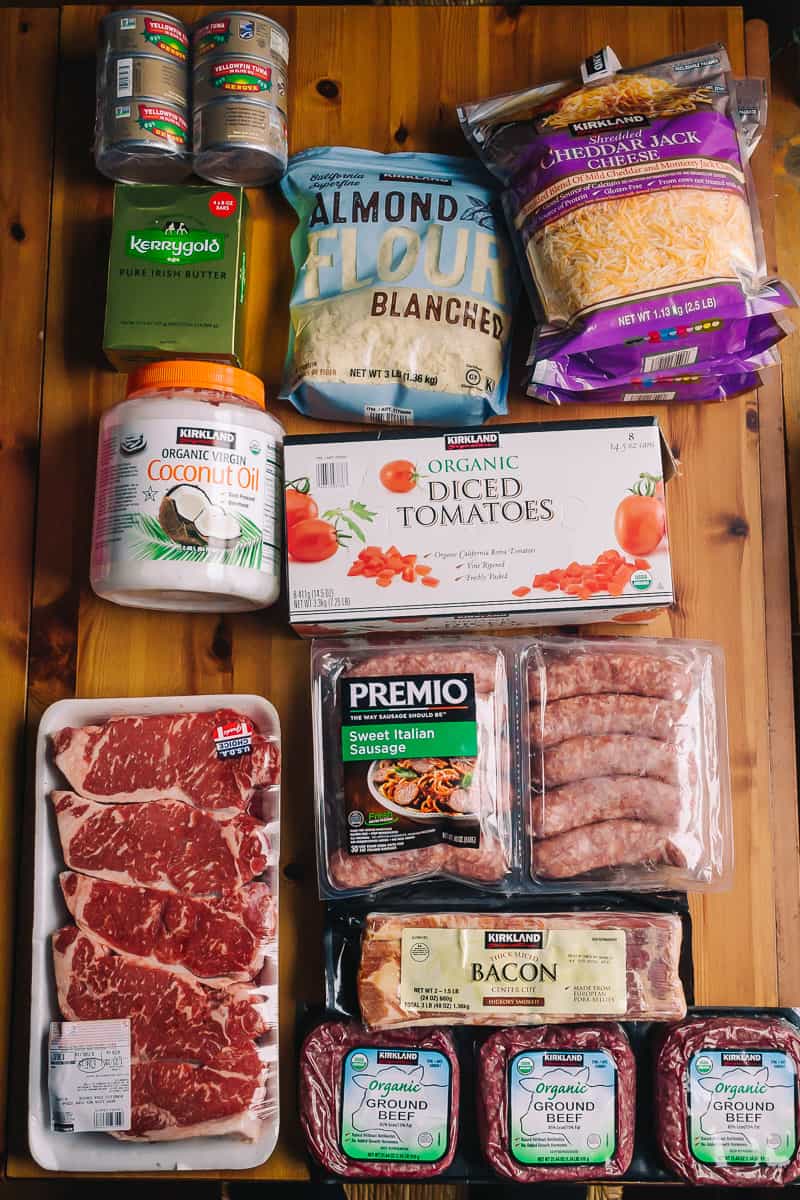 Hey guys! If you guys follow us on Instagram, you know how much we love Costco. We truly think Costco is one of the best stores EVER, and we are often posting detailed grocery hauls on our Instagram stories. We asked if you guys wanted a list of some of go-to items that we always get at Costco since we're now on a keto diet, and most of you responded "YES" you'd love it. By the way, we try to do grocery hauls every week on Instagram. We usually shop at Costco, Aldi, and a few other local produce markets around Chicago, and so if you'd like to see more of that content, give us a follow over there!
We love to be helpful, truly. We remember having a hard time knowing where to start when we first started the keto diet, so now that we have been loose/lazy keto dieters for the last 6 months, we figured we could share some of our tips. We do want to mention that we live in Chicago, so the prices are what we see in the Chicagoland area stores. Prices might vary at your location. We're fairly positive you can find all the items on this list in your Costco, no matter where you are. This post isn't sponsored in any way, shape or form. It's basically just a love letter to one of our favorite grocers, Costco!  
So, let's get to it. Here's 10 things to buy at Costco if you're on a keto diet!
Organic Grass Fed Ground Beef
Buying our ground beef at Costco has been the most affordable route we have found so far. We eat ground beef all the time. The quality of the meat we buy is really important to us, and we try whenever possible to buy the healthiest option available. The ground beef pictured above is organic and grass fed. We have to say it's incredibly tasty too! Since starting keto we really started taking a long hard look at the animal products we had been using, and now that we have switched to high quality ground beef, there's no way we can go back to what we ate before. 
At first, we felt that the way this was packaged was kind of confusing. In the three sealed packages, there's a total of four pounds of meat. It's 1.34 pounds per package, and it comes in at $20. We feel like that's a deal! We've linked some of our favorite keto recipes that use ground beef below.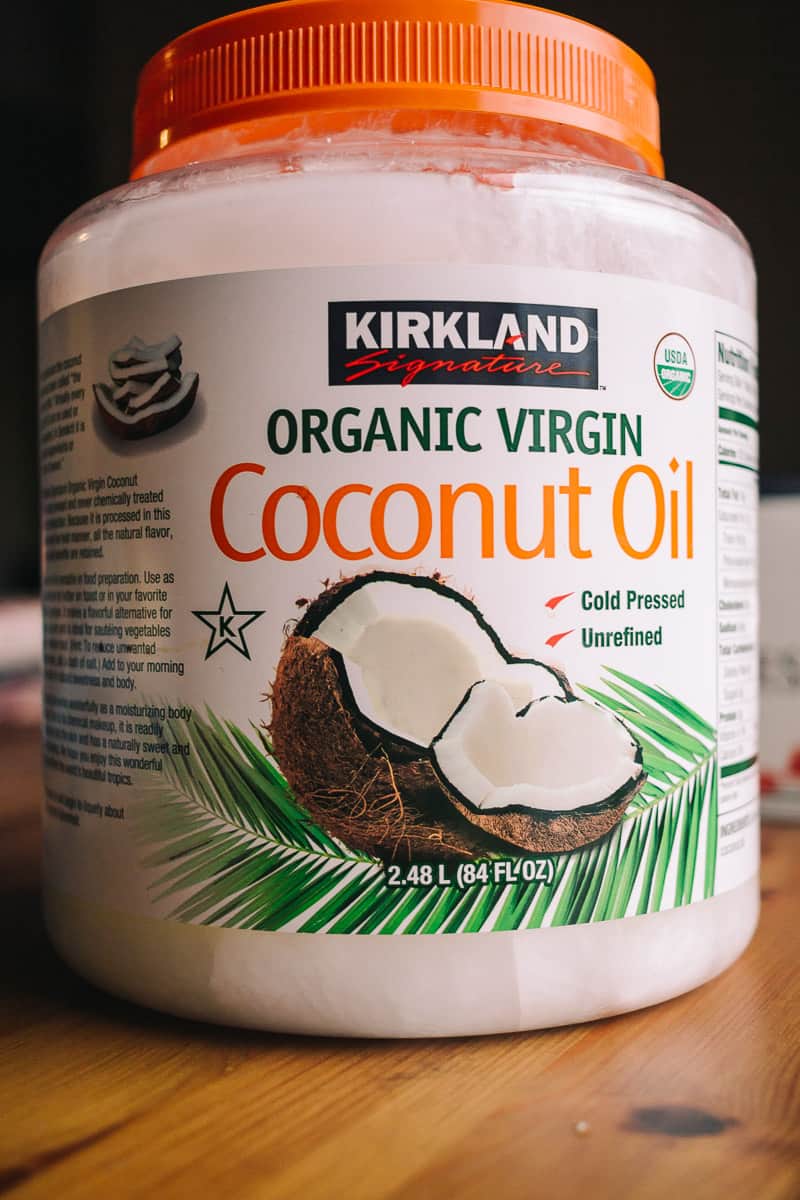 We are pretty obsessed with coconut oil as a fat source. It's kind of sweet and nutty tasting, and full of health benefits! The only catch is that it's sometimes kind of pricey. That's why we always buy it in bulk at Costco. This 2.48 liter container of Organic Virgin Coconut Oil will only run you about $13.99. I think it would be hard to find a better deal than that! We put this stuff in our coffee, and cook all sorts of things with it. Some recipes that utilize coconut oil are linked below.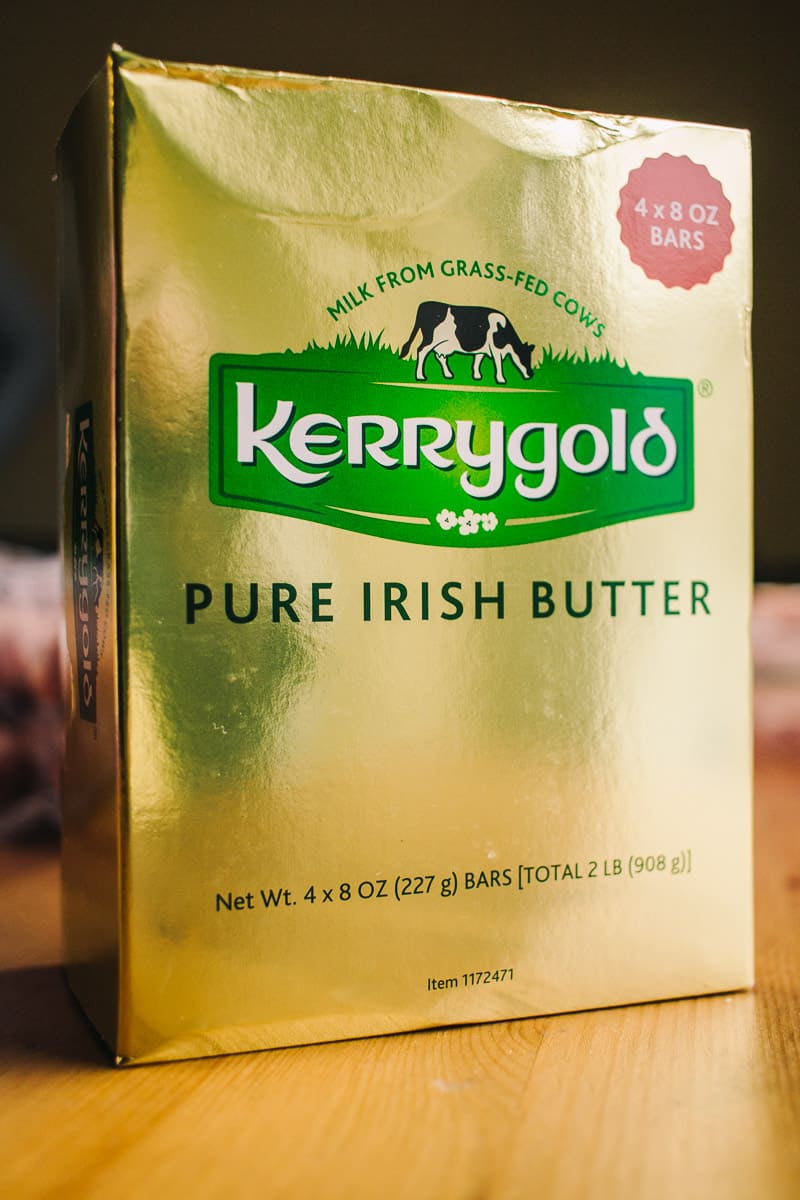 Okay, so we are kinda picky about butter now too. If you've tasted 
Kerrygold Irish Butter
, you can understand why our fridge is stocked with it, and why we are snobs about butter now. We never understood how good butter could be until we started buying this stuff! It's some of the purest and highest quality butter on the market. It will go great in absolutely anything you want to cook or bake and in your bulletproof coffee. Butter is just a staple. Good butter will change your life! Costco has the best deal in town for Kerrygold. This box contains four 8 ounce blocks of butter, and will run you $10.99. Score!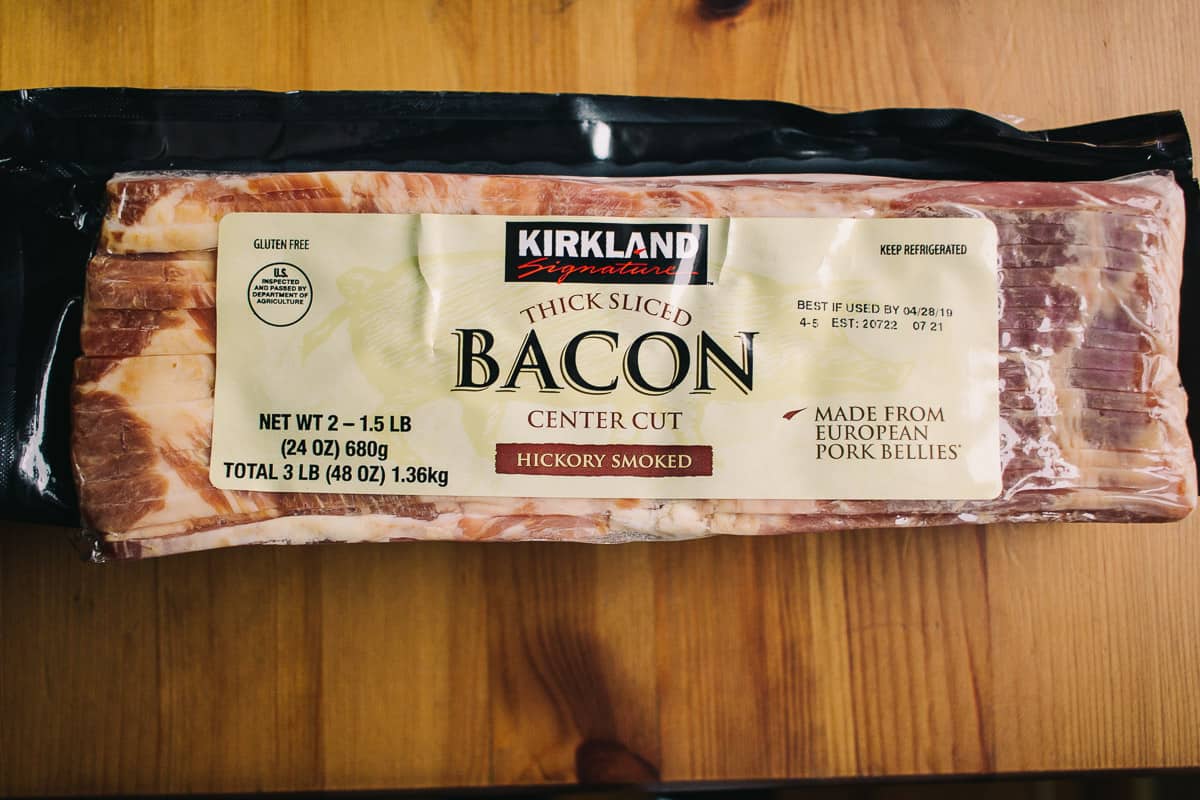 Thick cut bacon is another thing that you can almost always find in our fridge. Good for breakfast, snacks or really any meal of the day. Save some serious money by getting this stuff at Costco. Bacon isn't cheap! You can get two 1.5 pound packages (3 pounds total) for just $10.89. Such a great deal! Below are some ideas of what else to do with your bacon!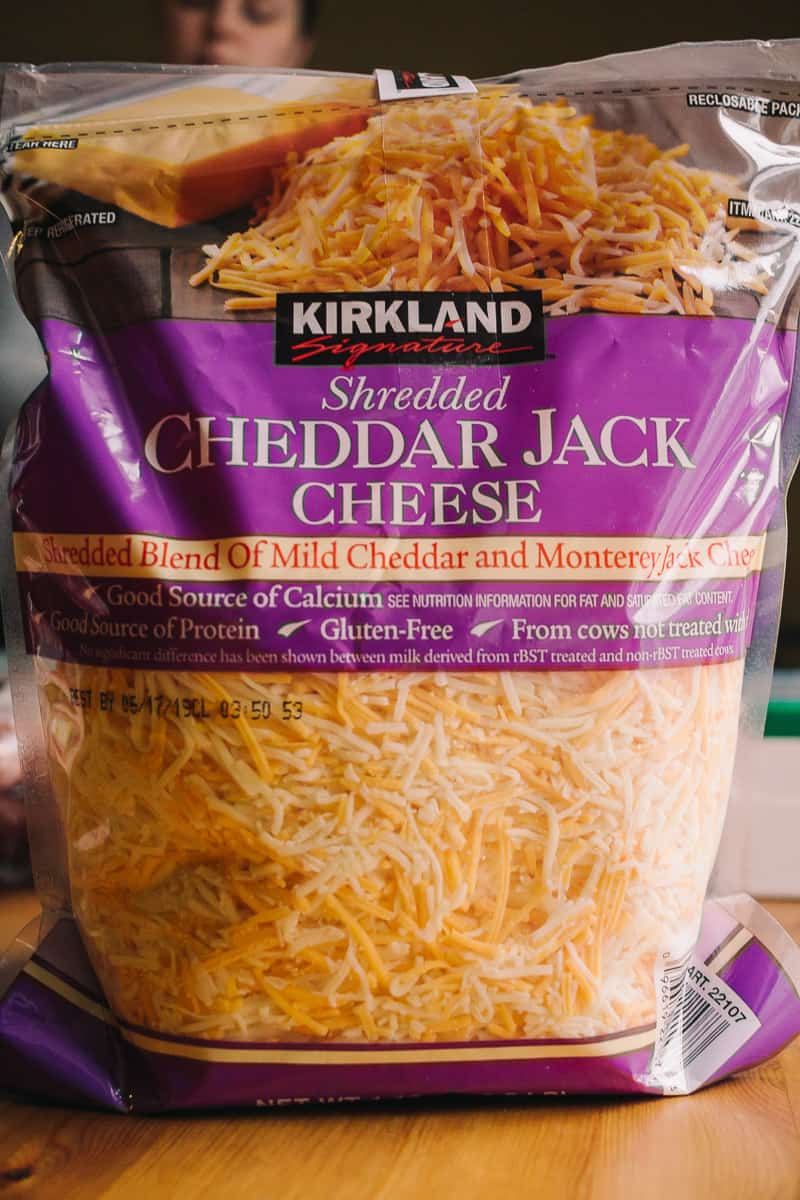 Now if we could eat just 1 thing for the rest of our life, we might just choose cheese. It goes on absolutely everything and pretty much is one of the best things in life! If you eat a lot of cheese like us, you would be wise to buy it in bulk at Costco. Prices vary depending on the type of cheese, but 5 pounds (2 bags like pictured above) of this shredded cheddar jack cheese will run you $11.79. Mozzarella is even cheaper, at $10.99 for 5 pounds! Check out some of our best cheesy recipes!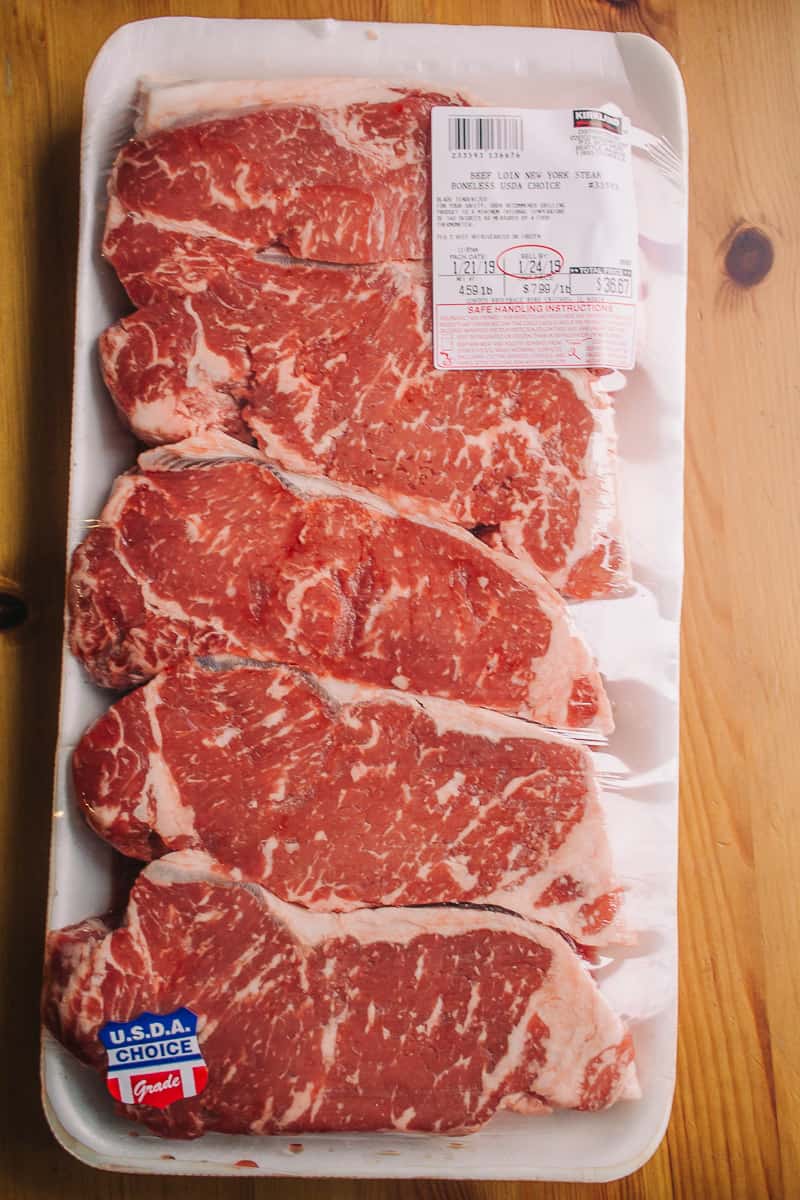 New York Strip Steak is such a treat, and we love to buy it once in a while. We only buy New York Strip at Costco now, because it's such a great deal. For only $7.99 a pound, you probably won't find a better deal anywhere else. Eat it for dinner with some veggies, or put it on top of a salad, 
like this one here
.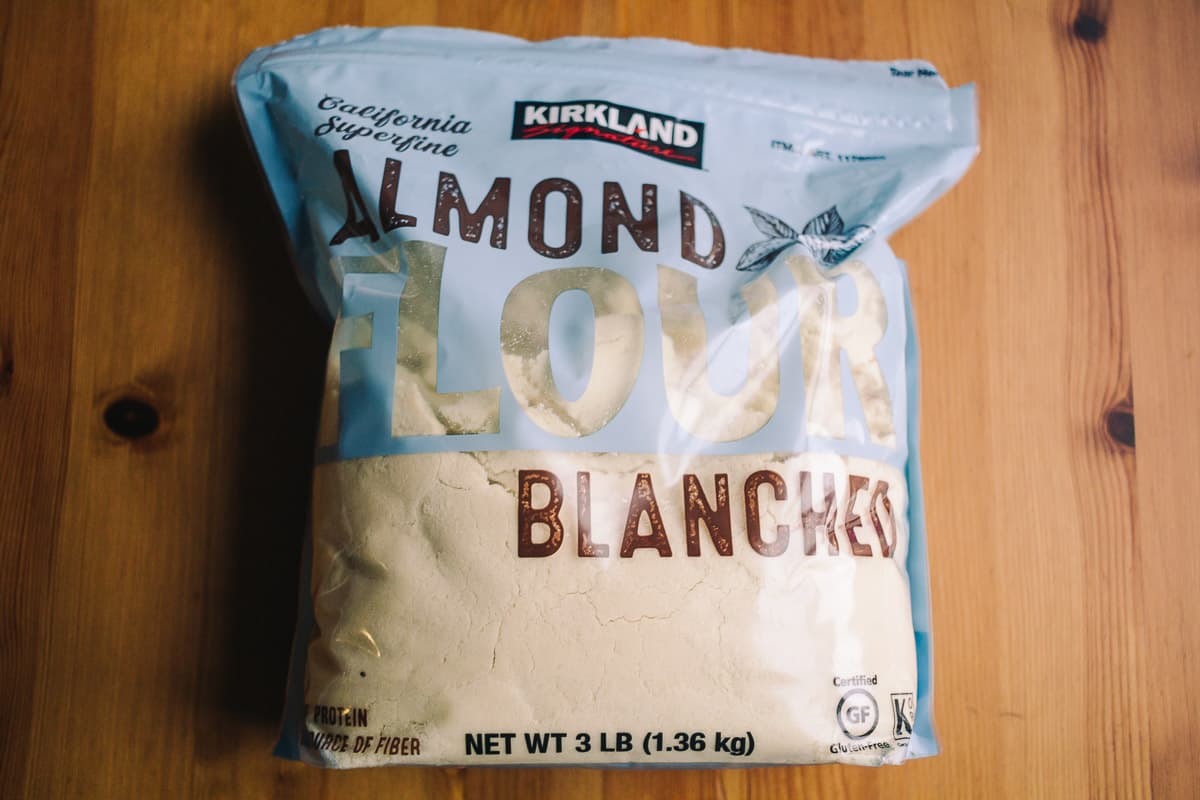 If you buy almond flour anywhere other than Costco you're honestly probably doing it wrong! Haha. But seriously, if you guys know of any better deals, we'd be shocked. A three pound bag of $11.89 is amazing. A one pound bag at Trader Joe's will cost you between $6-7 on it's own. If you like to make keto treats, you'll need almond flour probably and this is for sure your best bet. Here's some of our favorite keto treats we've made with almond flour. 
Canned Yellowfin Tuna in Olive Oil
We have really developed a taste for high quality tuna over the years. Now that we've tried this Yellowfin tuna in olive oil by 
Genova Seafood
, we can't go back to anything else. It's such a rich, flavorful tuna and with the added olive oil it's practically halfway to a full meal. It's also important to mention that these guys are 
MSC Sustainable Seafood Certified
. You can even track each can of tuna to see exactly where it came from using a link on each can. How cool is that? At Costco you can get a six pack of cans for $12.99, which is a great deal for this stuff.  Add in some mayonnaise, seasonings of choice and maybe some giardiniera if you're feelin' spicy and boom, perfect keto meal!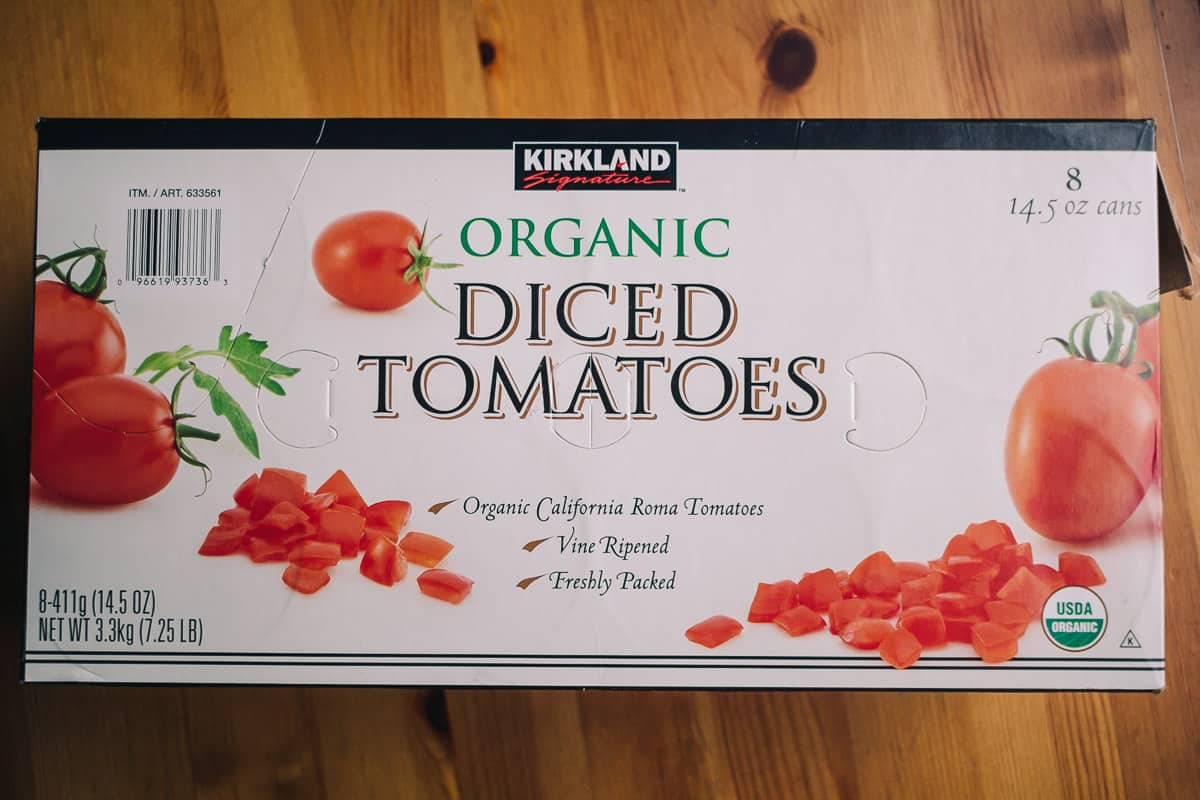 Diced tomatoes can be used in so many dishes. So why not buy them in bulk and save a little money while you're at it? As you can see, they are also organic, which is a plus! This eight pack (14.5 oz. cans) costs only $5.99, and will last for basically forever in your pantry. We sometimes use diced tomatoes in place of crushed tomatoes by pureeing them in the food processor. It works just as good, and gives you full control of the ingredients going in. You can also reduce the acidity by using diced tomatoes instead of crushed. Here's some recipe suggestions below.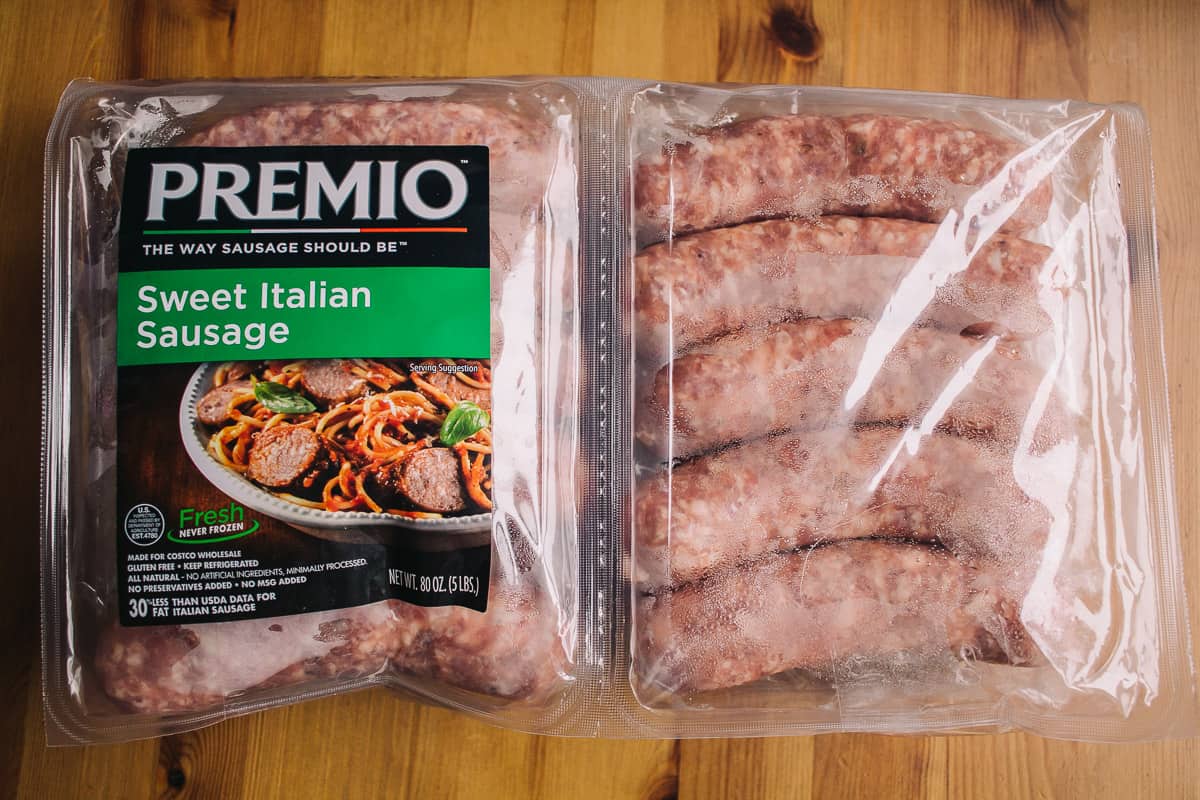 This sweet Italian sausage by 
Premio Foods
 is another staple in our household. We love to cook it with marinara sauce, or just sauté it in a pan with some veggies for a quick keto meal. You can also make these Italian Sausage Stuffed Bell Peppers for a quick, easy and delicious low carb meal.  A five pound package costs $13.99.
Alright guys, we plan on making multiple lists like this, but if you think we missed something, let us know in the comments! Do you love shopping at Costco? Make sure to share this list with your friends if you found it helpful. Keto on and thanks for stopping by! 

Until next time,

Briana & Chamere